Heritage Stables
Instructors are available to teach lessons on HS's horses or on the student's personal mount. We offer comprehensive lessons for aspiring horse owners or beginners. Please contact the individual instructors for their lesson fees.
Travel fees:
Our instructors are more than happy to teach private or group lesson at your own facility.
30 minutes or less . . . . . . . . . . . . $5.00 (added to lesson fee)
Over 30 minutes (must schedule two or more lessons or a clinic) . . . . . . . . . . . . . $10.00 (added to lesson fee)
(Please contact individual instructors for group rates & clinic fees.)
Cancellation Policies:
Cancellations due to weather or emergencies (injury, sickness, vehicle breakdown, etc.) are not charged lesson or cancellation fees. Other cancellations must be made at least 24 hours in advance to avoid cancellation fees. Cancellations made within 24 hours to lesson time will be charged a $15.00 cancellation fee. Failure of student to arrive for lesson without prior notice, outside of an emergency, will result in full charge of lesson fee. Any fees enacted can be waived at the instructor's discretion.
*All fees and policies indicated above are effective as of 1/1/09. All fees and policies are subject to change with one month's notice to all active clients of Heritage Stables.
If you are interested in riding lessons or have more questions please contact us at lindsay@heritagestables.com.
Boarding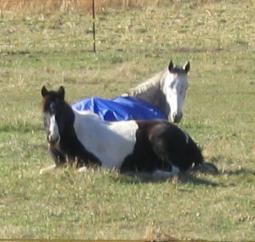 We have two fully fitted barns with 7 stalls total. Multiple pastures and paddocks allow for a variety of turnout options. We have two barns in the process of being remodeled, once construction is completed we will be able to offer more comprehensive board options. The fees listed below are incurred on a monthly basis.
Pasture Board: $300.00
This includes 24/7 turnout with other HS horses or private paddock, owners preference. Forage and water provided daily year round. Access to a stall or stabling is not included. However, routine daily management is. Boarders will have access to the tack room, wash stall and cross ties in the main barn along with the farm's riding arena & trails.
Full Board: $400.00
Limited availability at this time. Please call us, we may be able to meet your needs.

If you have more questions or are interested in boarding at Heritage Stables you can contact our Barn Manager at lindsay@heritagestables.com.