Proverbs 23:12 "Incline thy heart unto instruction and thine ears to the words of knowledge."
Committed to never ending self improvement
Lindsay started taking lessons when she was ten. She and her older sister, Kelsie, rode weekly with Megan Campbell at Clover Brook Farm. She started out riding huntseat but has also ridden & shown showmanship, games and trail class during her years in 4-H.
Lindsay has settled into classical dressage as her discipline of choice. She appreciates the great degree of finesse and balance it requires of both horse and rider to accomplish correct dressage or "training". She strongly believes that the basics of dressage are the foundation for good riding in any discipline. She has been riding with Cindy Sydnor as a working student for the past 6 years. She is learning so much and is continually grateful for the opportunity to be taught by this amazing instructor.
Once Lindsay aged out of 4-H she began looking for another organization that would continue to encourage her growth as a rider. That search led her to Eno Triangle Pony Club. She joined in 2008 and has been loving it ever since. Pony Club has given her great opportunities to improve her riding and teaching skills. She is now graduate H-A with her C3 & B in dressage.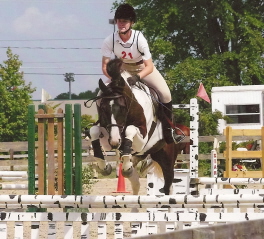 Lindsay has always enjoyed training and started her current mount, Peppy, undersaddle as a youngster. she is also in the process of starting her next up and coming mount, Demmy, under saddle as well. Her training techniques come mostly from the Parelli Natural Horsemanship program and the Classical Dressage she is learning with Cindy. She is happily finding that these two blend very well to produce well rounded mounts for her.
Certification: In 2007 Lindsay achieved certification with ARIA as a Level 1 instructor in recreational riding and stable management. In 2009 she received Level 2 certification in recreational riding. She is an official PNH Level 1 graduate and unofficial Level 2 graduate. In 2010 she began looking toward USDF instructor certification. She participated in four workshops taught by Bailey Cook and Cindy Sydnor. She learned a great deal and was pleased to be recommended for pre-certification. In June of 2011 Lindsay passed her HA test in Pony Club which includes a teaching phase where each candidate's skills as an instructor are evaluated.
Lindsay also works part time as a veterinary technician with Scarlett Mobile Large Animal Services. SMLAS is a mobile large animal clinic based in Asheboro owned by Drs. Brent and Becky Scarlett. Working for them is giving her a new appreciation for this aspect of the horse world and local agriculture in general. This is another wonderful learning experience for which Lindsay is very grateful.
Overall, Lindsay tries very hard to utilize every opportunity to enhance her abilities as an instructor and rider. She knows it's important that she keep growing and learning. She wants to bring the best into the arena that she possibly can.
If you are interested in lessons, training or just have a few questions feel free to contact Lindsay by phone or E-mail at : (336) 222-1303 lindsay@heritagestables.com
Lindsay and Peppy compete at USPC Championships East 2010 in Dressage.